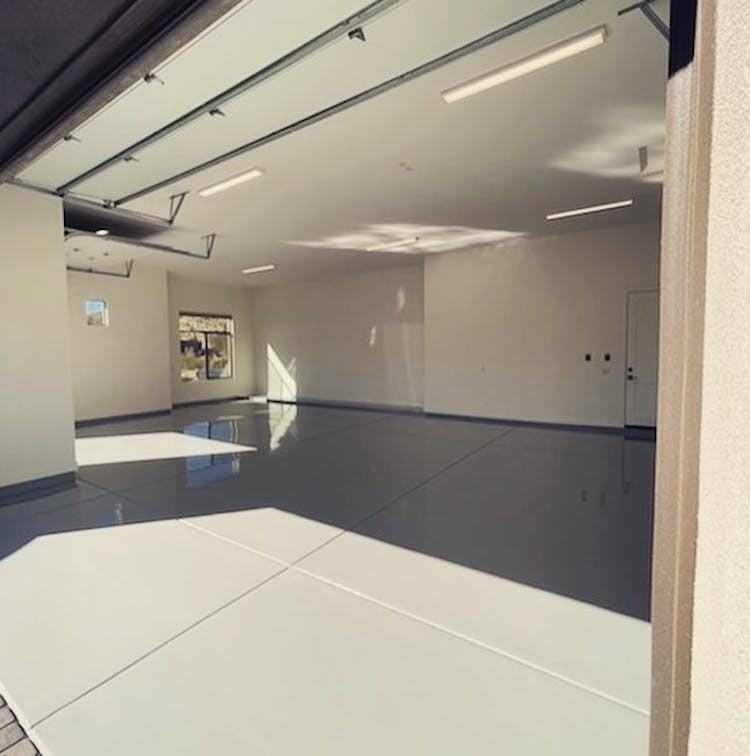 The Polyaspartic Advantage
Superior products require superior installation. Your polyaspartic coatings should be installed by certified and trained professionals. Here at East Valley Floor Coatings we are certified MVP installers of Laticrete *Spartacote Polyaspartic coatings with product & Installation Warranty Direct from the manufacturer
East Valley Floor Coatings Polyaspartic Garage System
East Valley Floor Coatings offers a full line of SPARTACOTE® industrial-grade polyaspartic garage floor concrete coating systems for residential garages. Our coating systems are designed to transform the garage into a comfortable and clean living space, offering you and your family years of enjoyment while increasing the value of your home.
Far superior to epoxy coatings our garage floor coating systems utilize patented Dual-Cure® polyaspartic floor coating technology. This unique chemistry incorporates only the highest grade resins available to give you a superior performing floor that will stand the test of time. East Valley Floor Coating applicators have the capability to install a world class garage floor coating in just one-day that can be driven on within a matter of hours.
Benefits
No hot tire pickup
UV stable, will not yellow fade or peel in sunlight
Fully resistant to gasoline, oil, grease and road salts
Superior adhesion to concrete
Up to 3x more resistant to abrasion than epoxy coatings
One-day installation, drive on the next-day
Epoxy VS Polyaspartic Epoxy Comparison Chart
Typical East Valley Floor Coatings Polyaspartic Garage System
Surface Preparation: Mechanically profile to CSP-2
Number of Coats: 2
Overall Thickness (DTF): 25-35 mils
System Build
Prime Coat/Broadcast Coat: Spartacote Flex Pure Pigmented)
Broadcast Options: No Flakes - Partial Flakes - Flakes to rejection
Top Coat: Spartacote Flex Pure  (Clear)
Custom Blends available at FLAKE https://www.torginol.com/
Follow Link below for more floor options
Commercial & Retail Concrete Floor Coating Systems
Whether your application is a car dealership service center or an active machine shop, SPARTACOTE® floors offer a durable, slip resistant surface designed for constant abuse. Spartacote concrete coating systems and performance top-coats are ideal for situations demanding protection from daily use caused by forklifts, heavy machinery and dropped tools. Furthermore, the impermeable surface is completely resistant to oil, grease and spilled maintenance fluids. They are heat resistant and designed for maximum life-cycle wear resistance. Most beneficial of all, these concrete coating systems can be applied in One-Day with next-day return to service – allowing you to have any industrial facility back into operation in no time.

Economical and Fast Turnaround Concrete Floor Coatings for Warehouses
If you are a business owner or facilities manager, chances are you have come across the do it yourself epoxy floor coating at one of the big box stores. While these options are certainly less expensive than having a professional concrete floor coating installed, they typically do not last nearly as long or provide for an adequate protective surface. The LATICRETE® SPARTACOTE® line of polyaspartic concrete floor coatings are selected every day by budget conscious owners looking for flooring solutions that are a cut above standard epoxy coatings, typically installed in 1 day. SPARTACOTE concrete coating products offer far superior durability and substrate adhesion, providing a surface that will not require constant repair or replacement year after year.
Chemical & Stain Resistant Resinous Concrete Flooring for Animal Housing
The LATICRETE® SPARTACOTE® line offers a variety of chemical resistant concrete floor coatings for use within animal holding facilities, veterinarian clinics and doggy daycares. Sparta-Flex polyaspartic boasts a tight molecular structure that resists bacteria-friendly microscratches. Anti-microbial polyaspartic flooring from LATICRETE will dramatically improve overall facility hygiene and reduce maintenance costs over time. Furthermore, concrete floor coatings may also be adjusted for traction and gloss levels depending on the needs of the facility.
It is important for dog kennels, veterinary clinics, and others of the sort to be structurally sound to create a safe environment to prevent injury to the animals and care givers. It is essential in these structures to have floors and walls that are non-toxic, easily cleaned, and can provide enough natural and artificial light to allow healthy growth. Our concrete coating systems provide UV resistance for enhanced reflectivity, great for natural and artificial light, enhancing the health of the dogs and other animals.
Other Systems
SPARTACOTE® CHIP  Broadcast System SPARTACOTE® CHIP Color Card
A multi-coat chip (flake) broadcast system designed to provide an attractive and durable seamless flooring finish. Available in 8 standard chip blends. Custom chip blends available upon request.
Clear Protective System SPARTACOTE® SEAL
Clean and seal or grind & seal is an economical yet functional clear coating system for the protection of concrete floors. It provides added durability while enhancing the look and color of the underlaying concrete by creating an attractive wet look.
Quartz Broadcast System SPARTACOTE® QUARTZ Color Card
A uniform quartz coating system that creates a highly durable floor ideal for heavy traffic applications. UV stable quartz granules provide a high traction, attractive finish.
Moisture Mitigation SPARTACOTE® Moisture Mitigation
High moisture in the slab and associated moisture vapor transmission is one of the leading causes of issues and failures. LATICRETE®recommends for protection against moisture vapor or when the relative humidity (RH) in the concrete measures 75% or greater
 GUARD  Solid Color System SPARTACOTE® GUARD
A solid color high performance coating system designed to provide durable and sanitary flooring with minimal maintenance. Available in 14 standard colors including safety colors. Custom colors available upon request.
 METALLIC  Flooring Systems SPARTACOTE® METALLIC Color Card
METALLIC systems use high quality metallic pigments to produce floors with beautiful color intensity and luster. They can be applied using a variety of methods to create a unique, truly artistic floor to compliment any environment.